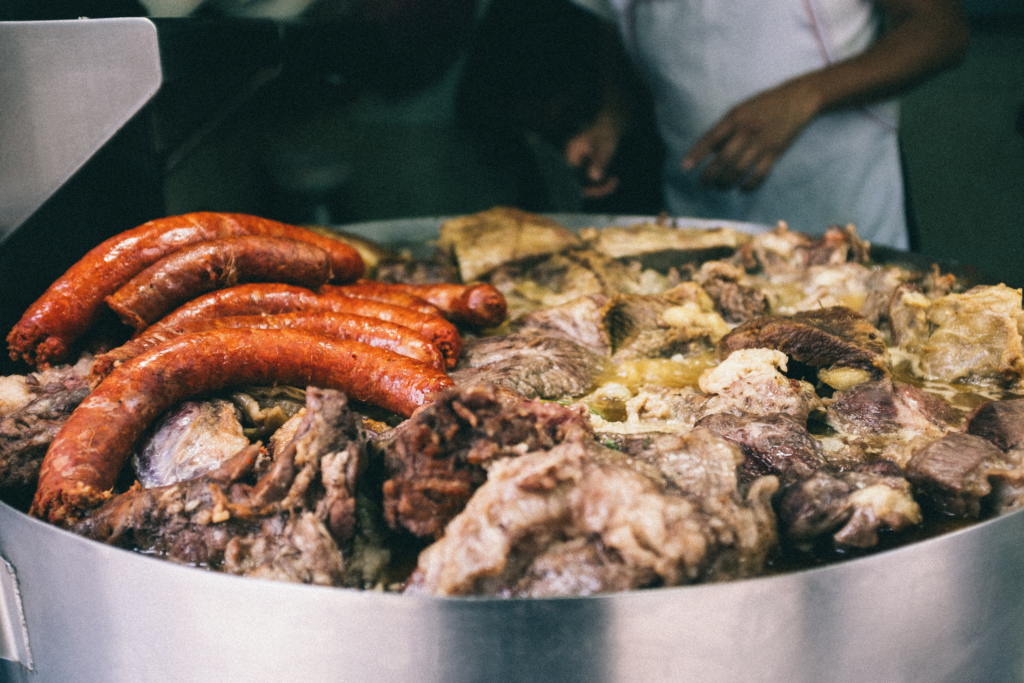 Introduction
Are you a foodie eager to explore the vibrant flavors and spices of Mexican cuisine? Look no further! This blog post is your definitive guide to the top 8 must-try foods in Mexico. From savory street tacos bursting with fillings, to refreshing agua frescas. So let's dive into this culinary journey together and discover what makes Mexican food so irresistible!
Mexico's Famous Street Foods
From tacos and tamales to pozole and menudo, there are endless delicious street foods to try in Mexico. Here are some of the most famous and popular ones that you absolutely must try on your next trip!

1. Tacos: One of the most iconic Mexican street foods, tacos are traditionally made with corn tortillas and filled with anything from meat and seafood to vegetables and cheese. There are endless variations of this beloved dish, so be sure to try as many as you can!

2. Tamales: Another Mexican staple, tamales are typically made with a corn-based dough that is steamed or boiled in a leaf wrapper. They can be filled with all sorts of delicious things, including meats, cheeses, vegetables, fruits, and even sweet fillings like chocolate or caramel.

3. Pozole: A type of soup usually made with pork or chicken, pozole is often served with traditional toppings like radishes, lettuce, onions, avocado, and lime. It's hearty, filling, and perfect for a chilly day.

4. Elotes: Grilled or roasted ears of corn smothered in mayonnaise or crema
Traditional Mexican Dishes
Mexican food is rich and flavorful, with a variety of dishes to choose from. While some Mexican foods are more well-known than others, there are many traditional dishes that are worth trying. Here are some of the best traditional Mexican dishes to try on your next trip to Mexico:

1. Pozole: A soup made with hominy and pork, pozole is a filling and satisfying dish. It's often served with shredded cabbage, radishes, lime, and avocado on top.

2. Tacos al pastor: A type of taco made with spit-roasted pork, tacos al pastor are delicious and easy to find in Mexico. They're are served with pineapple on top, which adds a sweetness to the dish.
3. Tamales: They make for a great snack or light meal.

4. Sopes: They're hearty and filling, perfect for a meal or snack on the go.
If you love seafood, then you'll definitely want to try some of the best seafood dishes Mexico has to offer. From fresh fish tacos to ceviche, there's something for everyone to enjoy. And of course, no trip to Mexico would be complete without trying the famous shrimp cocktail.

So what are you waiting for? Get out there and start exploring all the delicious seafood Mexico has to offer!
Mexican Desserts
Mexican desserts are some of the most unique and flavorful in the world. From rich, chocolatey mole to light and refreshing flan, there's a dessert for everyone in Mexico. Here are some of the best Mexican desserts to try on your next trip:

-Tres leches cake: A sponge cake soaked in three types of milk (evaporated, condensed, and whole), tres leches cake is a popular dessert in Mexico.
Drinks in Mexico
Drinks in Mexico are just as diverse as the food. From fruity and sweet to rich and savory, there's a drink to suit every taste. And of course, no trip to Mexico would be complete without trying a few of the country's signature drinks.

Here are a few of the best drinks in Mexico:

Margaritas: A classic Mexican cocktail, margaritas are refreshing, tart, and perfect for sipping by the pool or enjoying with a meal.

Pina Coladas: If you're looking for something sweet and tropical, order a pina colada. It's the perfect way to cool off on a hot day.

Mojitos: A mojito is a refreshing Cuban cocktail made with rum, mint leaves, lime juice, sugar, and sparkling water. It
Tips for Eating in Mexico
There are a few things to keep in mind when eating in Mexico that will help you make the most of your experience. First, it is important to be aware that Mexicans generally eat a lot of rice and beans.
Conclusion
Mexican food is an incredibly diverse cuisine, with a plethora of flavors and ingredients to explore. From tacos to flautas, there's something for every palate and dietary preference. The eight foods mentioned in this blog are just a few of the many delicious dishes available in Mexico; you can easily discover other tasty treats by asking locals or exploring markets!.